Page 2 - St Paul Audubon Annual Report
P. 2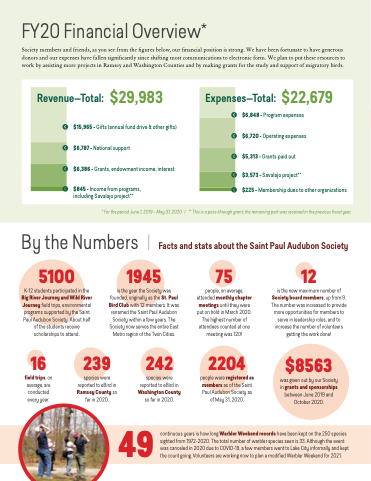 FY20 Financial Overview*
Society members and friends, as you see from the figures below, our financial position is strong. We have been fortunate to have generous donors and our expenses have fallen significantly since shifting most communications to electronic form. We plan to put these resources to work by assisting more projects in Ramsey and Washington Counties and by making grants for the study and support of migratory birds.
 Revenue—Total: $29,983
Ģ $15,965 - Gifts (annual fund drive & other gifts)
Ģ $6,787 - National support
Ģ $6,386 - Grants, endowment income, interest
Ģ $845 - Income from programs, including Savalajo project**
Expenses—Total: $22,679
Ģ $6,848 - Program expenses
Ģ $6,720 - Operating expenses
Ģ $5,313 - Grants paid out
Ģ $3,573 - Savalajo project**
Ģ $225 - Membership dues to other organizations
     * For the period June 1, 2019 – May 31, 2020 | ** This is a pass-through grant; the remaining part was received in the previous fiscal year.
By the Numbers Facts and stats about the Saint Paul Audubon Society
     5100
K-12 students participated in the
Big River Journey and Wild River Journey field trips, environmental programs supported by the Saint Paul Audubon Society. About half of the students receive scholarships to attend.
1945
is the year the Society was founded, originally as the St. Paul Bird Club with 12 members. It was renamed the Saint Paul Audubon Society within a few years. The Society now serves the entire East Metro region of the Twin Cities.
75
people, on average, attended monthly chapter meetings until they were put on hold in March 2020. The highest number of attendees counted at one meeting was 120!
2204
people were registered as members as of the Saint Paul Audubon Society as of May 31, 2020.
12
is the new maximum number of Society board members, up from 9. The number was increased to provide more opportunities for members to serve in leadership roles, and to increase the number of volunteers getting the work done!
$8563
was given out by our Society in grants and sponsorships between June 2019 and October 2020.
     16
field trips, on average, are conducted every year.
239
species were reported to eBird in Ramsey County so far in 2020.
242
species were reported to eBird in Washington County so far in 2020.
49 continuous years is how long Warbler Weekend records have been kept on the 250 species sighted from 1972-2020. The total number of warbler species seen is 33. Although the event was canceled in 2020 due to COVID-19, a few members went to Lake City informally and kept the count going. Volunteers are working now to plan a modified Warbler Weekend for 2021.